---
Container xChange, an online container logistics platform, has published its recent research report 'The benefits of digitalizing container operations'.
The report is based on a market survey of more than 1000 logistics professionals and revealed that without digital tools, freight forwarders spend almost half of their working days fixing problems.
Addressing Inefficiencies: The State of Digitalization in Container Operations
A staggering 93% of logistics professionals are spending nearly half of their working day solely dedicated to addressing problems. This indicates a significant inefficiency in the current system, leading to a waste of valuable time and resources.
Logistics professionals face a multitude of challenges when procuring a container deal, which can cause delays and lead to lost revenue. Among the most common problems are incorrect or incomplete documentation, and miscommunication and misunderstandings in international deals.
Other challenges include payment delays, discrepancies in container quality or quantity, undetected damage, and unexpected events such as weather-related disruptions or port strikes. These issues can cause significant disruptions to container operations and ultimately harm businesses.
Furthermore, 92% of logistics professionals are spending an average of 3-4 hours to source just one new partner when needed. This highlights the challenges faced by freight forwarders to maintain a diverse and reliable network of partners, leading to increased time and effort required for partnership acquisition.
In addition to spending almost half of their working day fixing problems and 3-4 hours to source one new partner when needed, 53% of logistics professionals spend 3-4 hours within the week discussing terms and conditions with new partners.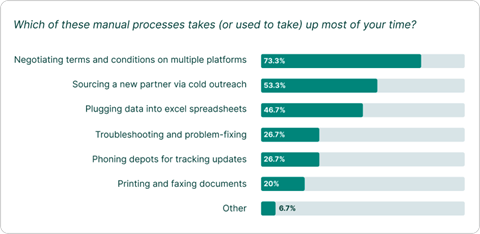 Furthermore, the report shows that 93% of logistics professionals spend 2-4 hours contacting depots for release and drop off references. These manual processes are time-consuming and can lead to inefficiencies in the container shipping industry.

The report has also revealed that one-third of logistics professionals are spending a significant amount of time on manual transactions, with an average of 10 minutes per transaction, highlighting the need for digital adoption for even the simplest operations in the container operations industry.

Commenting on the state of digitalization of the maritime, supply chain, and logistics industry, Nikolaus Sievers, Director of Logistics Optimisation Solutions at Solvo.ai said, "Supply chains consist of tangible and intangible flows: on one hand you have physical cargo flows and humans handling documents, and on the other you have digital flows of data. The business of international freight forwarding is all about the intersection of people, processes and technology."
Digitalization Becoming Essential for Logistics Industry, Risk of Falling Behind for Non-Adopters
The move to digital is evident, and those who don't make the switch are at risk of falling behind. With the increasing demand for speed, accuracy and transparency in the industry, the use of digital tools is becoming essential.
Adding to this, the report shows that those who have digitalized or automated similar processes investigated in the report already have a significant advantage.
By automating just these three processes i.e. Online marketplace for equipment and partner sourcing, Container tracking, release references of live ETAs, and Online chat for negotiating terms and conditions, one could save 8+ hours per week or 4 full working days per month.
For example, most players spend only 5-10 minutes sourcing a partner using an online marketplace, effectively saving 170 minutes to their un-digital counterparts, per partner.
"Digitalization is the inevitable evolution for every industry, and the container logistics industry is no different," said Christian Roeloffs, CEO of Container xChange. "In today's difficult times, companies are struggling with innumerable macroeconomic and geopolitical disruptions. With these manual processes, it can become even more difficult to do business. Our research shows that the move to digital tools can save time, increase efficiency and improve profitability. Logistics professionals need to embrace the digital transformation to stay ahead in a competitive market."
"As the report has shown, time saved from digitalizing operations at work is proving to be an asset for freight forwarders. It allows them to focus on higher-level tasks that can drive growth and success for the company, like setting long-term goals and identifying new markets for expansion. Additionally, this free time can foster a more collaborative and innovative culture within the organization, leading to new products, services, and business models.", he added.
Container xChange is leading the way in digitalizing container operations, providing a platform that connects shippers, freight forwarders and leasing companies worldwide. By using Container xChange's platform, logistics professionals can source new, trusted partners, digitize container logistics processes, and streamline their operations.
Also Read
10 most efficient ports in sub Saharan Africa