[divider style="solid" top="25″ bottom="25″][dropcap]A[/dropcap]irline brands across the world are returning to growth after the widespread disruption of the COVID-19 pandemic, according to a new report from leading brand valuation consultancy, Brand Finance.
The airlines industry suffered big losses in brand value during the pandemic as governments enforced travel restrictions to reduce the rapid spread of COVID-19. While many airline brands are growing again, they have not yet returned to pre-pandemic values.
Every year, leading brand valuation consultancy Brand Finance puts 5,000 of the biggest brands to the test, and publishes around 100 reports, ranking brands across all sectors and countries. The world's top 50 most valuable and strongest brands in the airline industry are included in the annual Brand Finance Airlines 50 2022 ranking.
Delta retains top position as the world's most valuable airline, valued at US$7.3 billion
Delta soars higher than its competition with the highest brand value in the ranking, up 27% to US$7.3 billion. The leading American carrier has rolled out various new features over the year to retain customer loyalty in times of low demand.
The new developments over the past year include the introduction of six new transatlantic routes adding to its existing network and new partner hubs across Europe in London, Paris and Amsterdam among others. Additionally, the Delta business has invested in airlines across the globe like Aeromexico (brand value up 42% to US$0.3 billion), Virgin Atlantic (brand value up 37% to US$0.4 billion), Korean Air (brand value up 15% to US$1.3 billion) and China Eastern (brand value up 4% to US$2.3 billion) to build the Delta brand by being able to deliver enhanced travel connectivity.
The airline industry faces challenges from carbon emissions and Delta is taking steps to address these concerns. Delta has partnered with European aerospace brand Airbus to research hydrogen powered aircraft to reduce carbon emissions. The switch from conventional jet fuel to alternative sources may reduce the environmental impact of the aviation industry.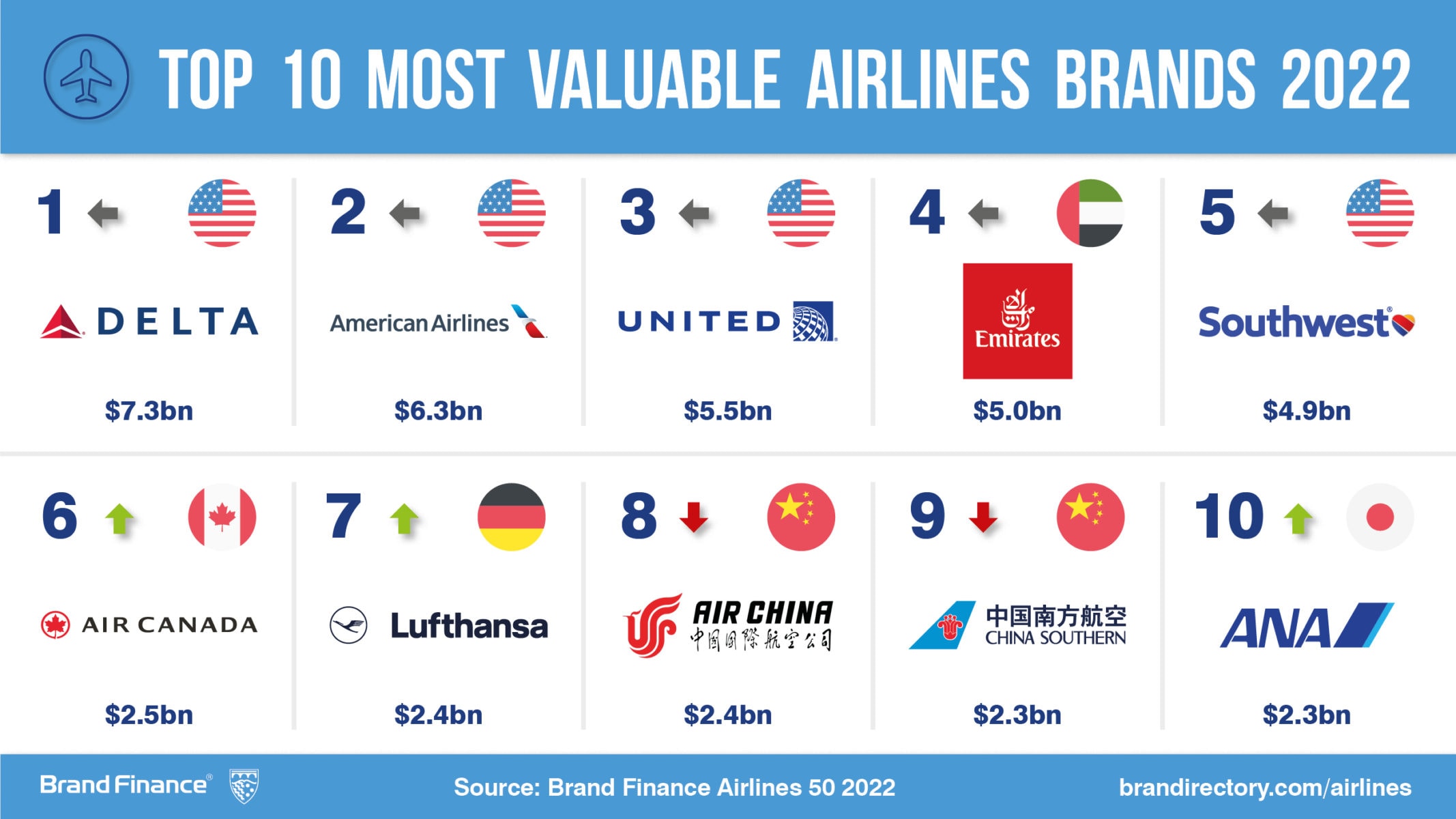 Savio D'Souza, Valuation Director of Brand Finance commented:
"The COVID-19 pandemic brought many travel restrictions across the world which had very big and direct impacts on airline brand values. As the world looks to a post-COVID future, airline brands, led by Delta, are beginning to taxi for take-off. Brand values have grown this year but have a long way to return to pre-pandemic levels."

Canadian airline WestJet is the strongest airline brand in the world with AAA- brand rating
In addition to calculating brand value, Brand Finance also determines the relative strength of brands through a balanced scorecard of metrics evaluating marketing investment, stakeholder equity, and business performance. Compliant with ISO 20671, Brand Finance's assessment of stakeholder equity incorporates original market research data from over 100,000 respondents in more than 35 countries and across nearly 30 sectors.
WestJet (brand value up 22% to US$0.6 billion)is the strongest airline brand in the world with a Brand Strength Index (BSI) of 84 out of 100 and a corresponding AAA- brand rating. The Canadian airline has strengthened its brand identity across Canada with the addition of 24 new routes across the nation, leading to Canadian customers feeling an increased affinity with the brand. The brand is steadily recovering from the impact of COVID-19 and is now operating over 500 departures per day for the first time since the pandemic nadir.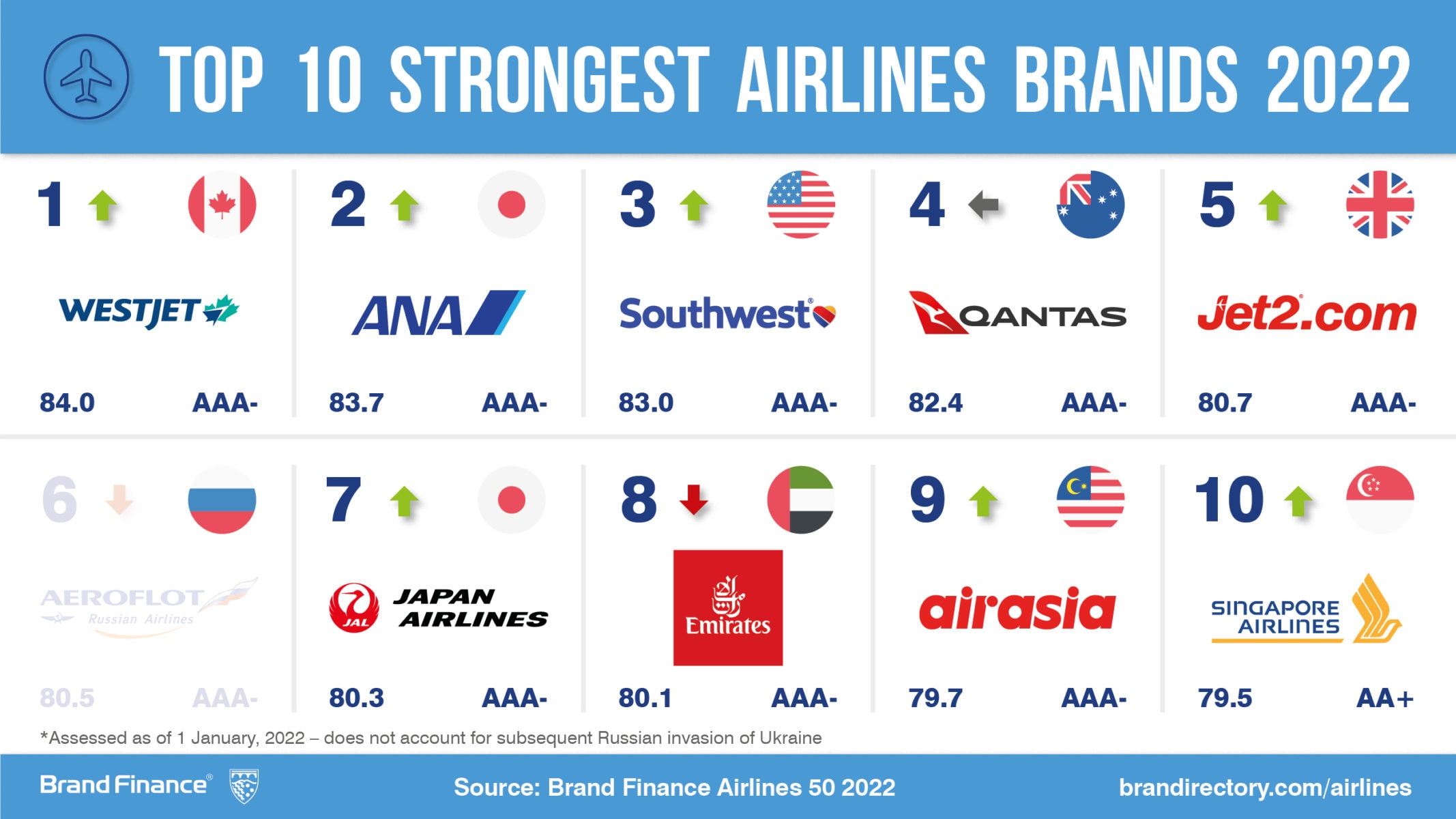 Spanish airline Iberia is fastest growing airline brand, 36% hike in brand value
Iberia is the fastest growing airline brand in the ranking with an impressive 36% growth in brand value, marginally ahead of Singapore Airlines, which increased brand value by just under 36% to US$2 billion. Iberia has achieved its brand value growth by adapting quickly to the COVID-19 disruption, and the Spanish airline is also building a new strategic partnership with Spanish oil producer Cepsa to decarbonise air transport and deliver sustainable fuel for air travel.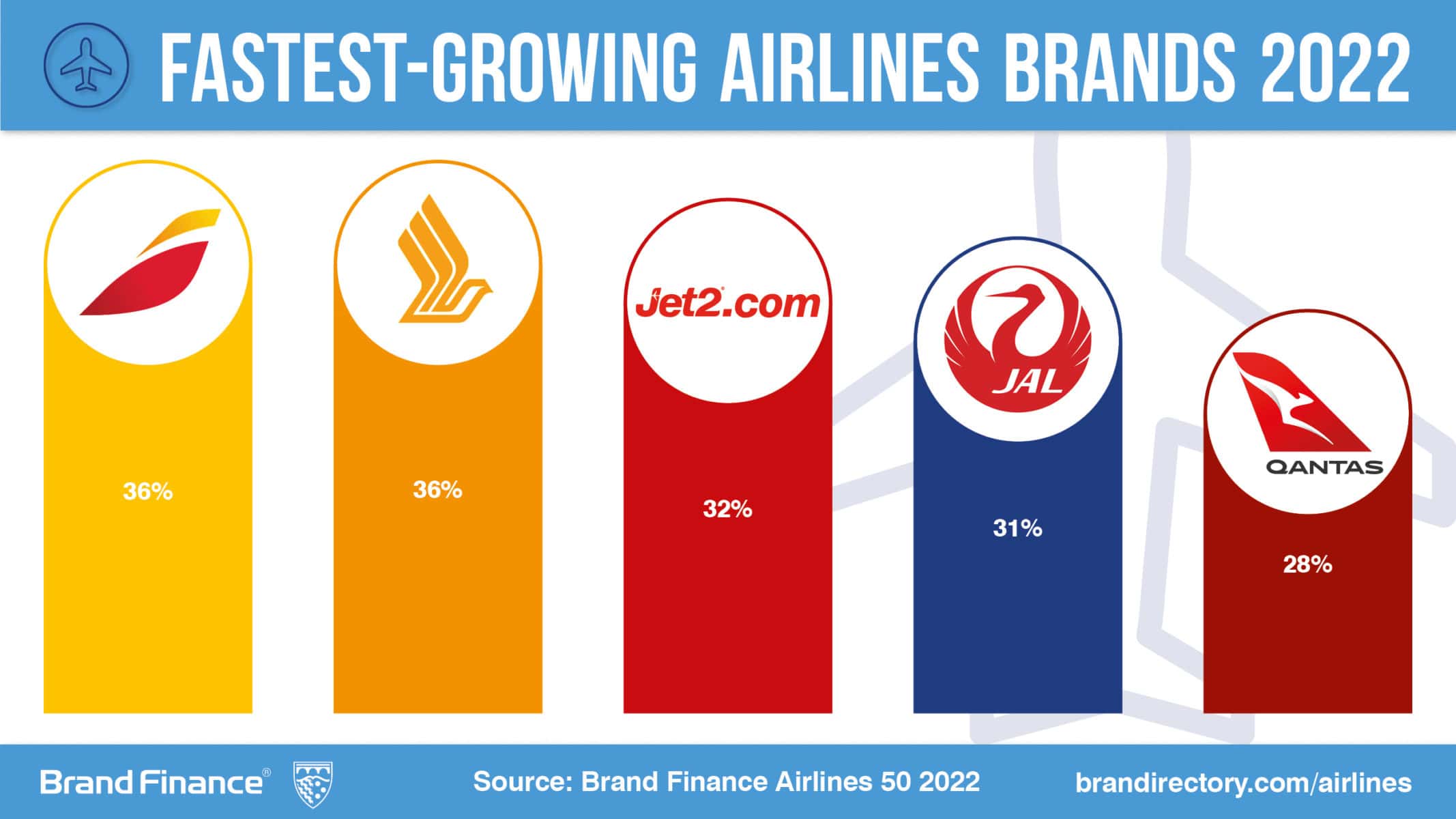 SAUDIA is the fastest growing airline brand in Middle East
SAUDIA (brand value up 13% to US$0.5 billion) is the fastest growing airline in the Middle East. As part of Vision 2030, Saudi Arabia plans to increase the number of tourists to 100 million and the number of religious visitors to 30 million a year by 2030. SAUDIA is investing heavily in both its product and service to enhance customer experience as it welcomes first-time visitors to Saudi Arabia. As a key enabler of the Kingdoms ambitious tourism targets as part of Vision 2030, there are numerous initiatives underway such as increasing the number of routes its serves and increasing the size of its fleet at its new state-of-the-art Jeddah Hub airport.
AirAsia strengthens brand familiarity and recall using digital transformation
AirAsia (brand value up 18% to US$1.4 billion) is among the top 10 strongest airline brands in the ranking. The brand's familiarity is strengthened by its diverse service offerings across travel, business, food and finance, beyond its core air travel business. The brand prioritises customer experience and digital integration with its versatile online travel agent (OTA) mobile application Super App. The brand has captured 63% of the domestic market share in Malaysia, reflecting its strong market position in its geographically concentrated markets.
Indian airline brands achieve steady post pandemic growth
Indian airlines are recovering from a dip in demand during several lockdown guidelines across India. IndiGo (brand value up 22% to US$0.7 billion) and Air India (brand value up 19% to US$0.3 billion) both achieved strong growth, although Air India remained outside the top 50 airline brands. The Indian airline brands in the ranking have achieved significant growth with 22% year-on-year brand value growth, with further potential as the world looks to a post-COVID future.
Also Read
Top 5 Reasons Passenger Airlines Don't Have Parachutes
Consortium signs Gas Infrastructure Development Agreement with Lagos Free Zone